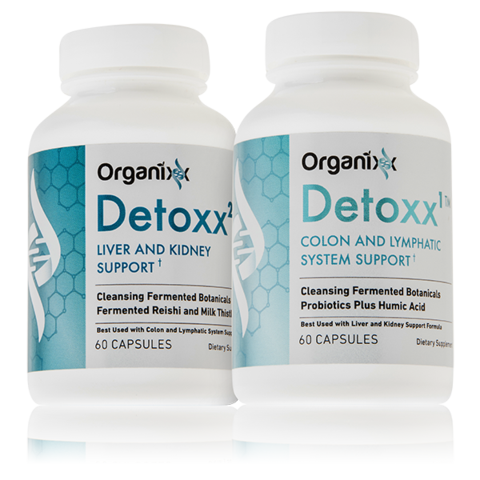 This two-part, gentle, full body cleanse offers 28 days of cleansing support to help the body move along toxic chemicals, heavy metals, pesticides, herbicides, toxic fungus and more, all while helping heal your gut and support your immune system.
Synergistic combination of two formulas combined to bring health balance to the digestive system and help reduce toxic load. 
Colon and lymphatic support formula: cleansing fermented botanicals, probiotics, plus humic acid.
Liver and kidney support formula: cleansing fermented botanicals, reishi and milk thistle
Detoxx 1 & 2 Protocols
The Detoxx 1 & 2 system is intended for those new to detoxification and want a long term daily detox support program.
Here are a few basic ways to utilize Detoxx 1 & 2 which is designed to be a gentle systemic detoxification program that assists the body in eliminating accumulated toxins.
1. The  basic protocol is to take Detoxx 1 Colon/Lymph, 2 capsules in the AM & PM for 15 days then switch to Detoxx 2 Liver/Kidney, 2 capsules in the AM & PM for 15 days.
This protocol is designed specifically for people who have no experience with detoxing. It is simple and easy. You commit to diet changes by eating what you already eat, but switch to all organic foods and follow the dietary guidelines below for the 30 days of this program.
 2. The  intermediate protocol is to take 4 capsules of Detoxx 2 Liver/Kidney in the AM and 4 capsules of the Detoxx 1 Colon/Lymph in the PM for 15-30 days.
This protocol is for people who have completed a detox program previously, but haven't detoxed for a while. If you are carrying some extra weight, feeling sluggish, or are planning on starting a new fitness plan this program is for you.
3. The  advanced protocol is to take the Detoxx 1 Colon/Lymph, 4 capsules AM & PM for 1 week followed by Detoxx 2 Liver/Kidney, 4 capsules AM & PM for 1 week.
This protocol is for people that are fit and well enough to detox and urgently need to remove their bodies from toxic buildup.
4. The  extended protocol is to take Detoxx 2 Liver/Kidney 2 capsules AM along with other nutritional supplements such as Multi Vita-Maxx, 7M+, OrganiZymes and Turmeric 3D and then take Detoxx 1 Colon/Lymph 2 capsules in the PM with a probiotic such as ProBiotixx.
This protocol is one that you would follow in order to assist your detox/elimination systems on a daily basis to "keep your house clean" on an ongoing basis.
The diet guidelines that must be followed to maximize the removal of toxic wastes, chemicals and unfavorable microbes is to switch to entirely certified organic, non-GMO foods and drinks and eat the following proportions:
1 part Organic Protein (meat, chicken, turkey, fish, eggs, bone broth, legumes)

1 part Organic Fruit (equal in volume to the amount of protein consumed)

2 parts Organic Vegetables (twice the volume of protein or fruit that you consume)

1 part Organic Starch Foods (yams, potatoes, breads, pastas)*

Drink ½ - 1 full gallon of distilled water or Reverse Osmosis water daily (up to 1oz. per kilo of body weight, that would be 75 oz. or roughly ⅔ gallon of distilled water daily)

*If you want to use this detox program to initiate weight loss, you should avoid foods that contain starch.

By switching your diet to a 100% certified organic and non-GMO, you're eliminating exposure to the very chemicals that are intoxicating you. By using distilled or reverse osmosis water, you maximize the solvent action of water on the toxic buildups in your system. The other things that are important to avoid are gluten, corn and corn derivatives, dairy, peanuts, carrageenan and food dyes. These are all pro-inflammatory foods that will add to or promote the progression of any inflammatory condition that you may be suffering.
This program may not seem strong enough for people who have experienced detoxifying before, but to assist those that have years of accumulated toxins in their bodies and have a desire to detoxify with minimal discomfort this protocol can enable the body to eliminate toxic waste without having to live in the bathroom.
If we scrubbed floors on our knees all day for a living then fell and scraped our knees, when would our knees heal? If we don't stop exposing our knees to the floor which continually irritates them, they won't be able to heal. If you don't avoid the very same toxins that are making you ill, your body can't heal.
Consider the fact that most major religions have historically incorporated fasting multiple times per year to purge or cleanse the body. History has acknowledged that stepping back and giving the body a break and getting "in tune" with your body is of importance.
Disclaimer: This information is not for diagnosis or treatment of any health problem or as a substitute for medication or other treatment prescribed by your physician and/or healthcare provider. The information provided is for informational purposes only and is not intended as a substitute for advice from physician or other healthcare professional. You should consult with a physician or healthcare professional before starting any diet, exercise or supplementation program, before taking any medication or nutritional supplement, or if you have or suspect you might have a health problem.